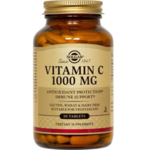 Vitamin C 1000 MG

90 Tablets

$11.98

© 2012 Brent-Air Pharmacy Inc. All Rights Reserved. 
*
Vitamin C helps fight free radicals. One of its primary functions is collagen formation, which is important for healthy nails, skin, hair, and joints. Vitamin C also plays an essential role in the functioning of white blood cells, which are vital components of the immune system. It helps to promote cardiovascular and respiratory health, and is beneficial for healthy gums.*

Solgar Vitamin C 1000 MG - 90 Tablets    $11.98

Order by Phone for Pick-Up: (310) 476-2211


Amount Per Serving:

Vitamin C:  1000 mg - 1667%

SUGGESTED USE:

As a dietary supplement for adults, take one (1) to two (2) tablets daily, preferably at mealtime, or as directed by a healthcare practitioner.


134 S Barrington Av

Los Angeles, CA 90049

310.476.2211 Fax 310.472.8659