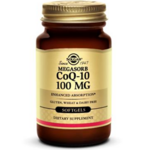 Megasorb CoQ-10 100 MG

60 Softgels

$31.98

© 2012 Brent-Air Pharmacy Inc. All Rights Reserved. 
*
Research shows that CoQ-10 levels may be affected by age, exercise and environmental stressors. CoQ-10 is a clinically studied ingredient to promote heart function and that supports healthy aging. This formulation is offered in an oil-based softgel to promote optimal absorption and assimilation.*

Solgar Megasorb CoQ-10 100 MG - 60 Sofgels    $31.98

Order by Phone for Pick-Up: (310) 476-2211

Amount Per Serving:

MEGASORB Coenzyme Q-10 (as ubiquinone):  100 mg*

SUGGESTED USE:

As a dietary supplement for adults, take one (1) to two (2) softgels daily, with meals, or as directed by a healthcare practitioner.



134 S Barrington Av

Los Angeles, CA 90049

310.476.2211 Fax 310.472.8659